It's a long story.
A God-story.
His Word says it well for me: "We proclaim to you what we have seen and heard, so that you also may have fellowship with us. And our fellowship is with the Father and with His Son--Jesus Christ. And these things we write that our joy may be full."
1 John 1:4
Rick Leland writes from his home in Three Rivers, Michigan.
Contact Rick at: leland5@comcast.net

|||||||||||||||||||||||||||||||||||||||||||||||||||||||||||||||||||
Inspiration Point...Living the God Imprinted Life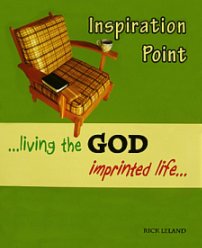 $ 8.95 USD
Like spending time with a friend who understands, encourages, and gives you hope.
The author's vignettes of his own life and of the people he knows, help us to rediscover: Christian life is in our everyday, often mundane experiences.
Not Sunday only. Not one big project for God...just using each day to find an opportunity to serve God. And love people.
|||||||||||||||||||||||||||||||||||||||||||||||||||||||||||||||||||